Skip to Content
Manassas Dental Implants
Restoring Missing Teeth for a Beautiful Smile
At Kay Dental Care, we offer high-quality dental implants to fully restore your smile. Often, when you lose a tooth or several teeth, you will notice that your speech becomes labored and even simple tasks, such as eating, can feel like a chore. If you have lost teeth, you may also be self-conscious about the aesthetic appearance of your current smile. To resolve these issues, we suggest that you come in and speak with one of our dentists about our dental implants. Our implants are customized to fit properly in your mouth as well as mirror the natural shading of your teeth. Learn more about dental implants here at Kay Dental Care below, and contact us at 703.686.4343 to schedule a consultation with our dental professionals today!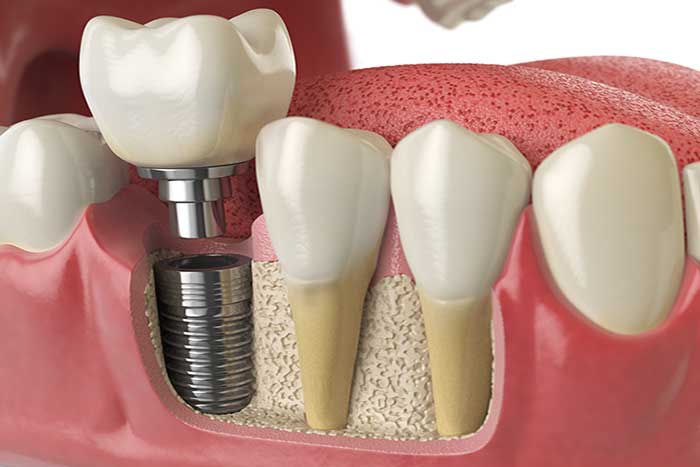 About Dental Implants
Dental implants are small pieces of titanium that are surgically placed through the gum to fuse with the jawbone and function as a tooth root. Atop the dental implant, a false tooth (or "pontic") is affixed to replicate the appearance and function of a natural tooth. By surgically placing titanium, artificial roots into your jaw bone complete with custom-designed, fully-functional pontics, our dental professionals at Kay Dental Care can provide you with durable and comfortable implants that will last for years. Dental implants are extremely strong but will occasionally need to be re-tightened or replaced due to normal wear. If you are interested in regaining your own unique smile, then trust our Manassas dentists to provide you with individualized care.
Dental Implants at Kay Dental Care: The Right Choice for Your Smile
Durable, aesthetically brilliant, and highly-effective, dental implants are an excellent choice for those with missing teeth looking to revitalize their smiles. From a cosmetic standpoint, dental implants provide a beautiful and long-lasting tooth replacement solution that perfectly mimics the appearance of your natural teeth. From a functional standpoint, dental implants restore your missing teeth from the root up. Titanium bolts ensure durability and continued performance, while custom-made pontics bring your bite back to ideal working order. At Kay Dental Care, our dental professionals use the latest in dental implant technology to ensure that our patients get the best dental implant treatment available today.
Our Manassas dentists offer dental implants that are:
Customized to fit your mouth
Designed to match the color of your natural teeth
Effective at restoring the proper alignment of your bite
Highly durable
If you are interested in learning more about the many benefits of dental implants, our dental professionals at Kay Dental Care would be happy to answer your questions.
Schedule Your Appointment Today!